Business / Corporate Law in Warwick, NY and Serving The Hudson Valley Area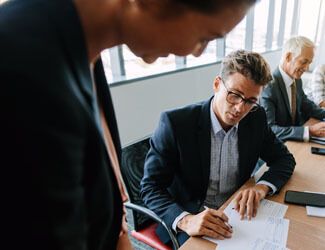 Whether you are forming a new entity, restructuring your existing business, buying or selling a business, dissolving an entity, or simply need some contracts prepared or reviewed, having the advice of counsel can make all the difference in getting it done right the first time.
Beyond the nuts and bolts of preparing the forms needed to accomplish the above tasks, there are significant strategic, tax and regulatory compliance issues to consider whenever you're starting, growing, changing, or closing a business, and each situation is unique. That's why its not always the best idea to download some form on the web that was prepared for somebody else with different circumstances.
At the Havens Law Firm, we look for creative solutions to meet your business objectives and corporate needs. You may be thinking "I should set up an LLC." We can not only help you determine if an LLC is the right corporate form for your entity, but also provide guidance and insight on how your entity should be structured.
Some Important Questions to Be Answered Are:
In what state(s) will you organize and operate?

Is there any benefit to organizing in a different state?

Is there any benefit to organizing a subsidiary/parent structure?

How many owners/shareholders/managing members should there be?

How are the ownership interests to be divided among the owners?

Who will manage the organization and how are decisions made if two or more managers disagree?

How do you plan for ownership transition in the event of the sudden death of a partner? Estate Planning for your business is just as important as planning for your other personal assets.

What rights would investors, limited partners or limited members have?

How will the entity be capitalized? Do you require outside investment capital, and if so, how will you raise it and what regulatory compliance issues will you have to deal with under each alternative capitalization structure? Is a multi-tiered capitalization structure better if you plan to grow in stages/phases?

What Real Estate needs does your business have?

Would you be better off organizing as a Nonprofit Organization?

Will you have Intellectual Property rights that you need to protect or that you want to license for additional revenue?

How do you minimize the risk of Litigation?
Contact our office to set up a consultation regarding your Business/Corporate concern.